About the SA Junior Heifer Expo
The concept and establishment of the Expo was the initiative of a dedicated and visionary group of South Australian beef cattle producers, who recognised the potential long and short-term benefits of such an event. These breeders felt the future of the Australian beef industry would be enhanced through the education and encouragement of our youth to become active, constructive and enthusiastic participants within the industry. The inaugural Expo was staged in 1985 and from humble beginnings it has grown to its present status. The average participation rate is now around 180 junior community members per year ranging from 8 to 23 years of age. Over 4200 have entered this event since its beginning. They have come from all states of Australia as well as New Zealand. The major annual award at the Expo is a $6500 Beef Industry Scholarship, which is awarded to the Senior Champion Herdsperson. This acts as a huge incentive, enticing many participants to return year after year. As testimonial to the events original objective, a large number of the participants have gone on to take up very prominent and responsible positions within the beef industry and the community in general.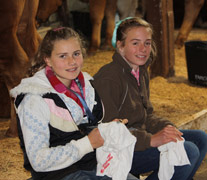 Participants are required to have a heifer or steer that they work with over the 4 days of the event. A supply network assists those who do not have immediate access to a suitable animal. Expo participants and their livestock are accommodated at the Adelaide Showground at Wayville, during the event, to undertake the full and comprehensive program. This along with responsible leaders and the age variation "buddy" system ensures participants gain maximum benefit from their participation. Besides the educational benefits, numerous lifelong friendships have been established as a direct result of meeting at this Expo.
The main objective is to
encourage livestock enthusiasts
to gain knowledge and skills
in the many facets of the cattle industry.
The following are indicators of awards & prizes presented at the end of the 4 days of the SA Junior Heifer Expo. New awards and prizes are continuously being sought.
Junior, Intermediate and Senior Champion Heifers
Champion Commercial Steer/Heifer
Junior, Sub Intermediate, Intermediate and Senior Champion Handlers
Junior, Sub Intermediate, Intermediate and Senior Achievement Awards
Special Novice Award
Junior Encouragement Awards
Sub Intermediate Encouragement Award
Sub Intermediate and Intermediate Marketing Award
Junior Judging
Intermediate Education Scholarship Award
Senior Herdsman Marketing Competition
Senior Clipping Achievement Award
Senior Clipping Encouragement Award
Show Foundation Award of Excellence
SA Junior Heifer Expo Senior Champion Herdsperson Award
SA Junior Heifer Expo Reserve Senior Champion Herdsperson Award
"Our aim is to continue to improve the Expo as a platform for our youth within the beef industry, allowing further development of their knowledge, experience and opportunities in life and enabling them to become tomorrow's leaders"