ENTRIES FOR
JUNIOR HEIFER EXPO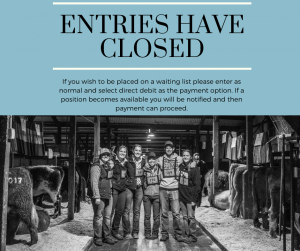 How to Enter
**  if you have any problems with using our online entry form,
please contact Justine Fogden on 08 85872272 or email info@sajuniorheiferexpo.com.au
Entry requirements:
To enter and become a part of the South Australian Junior Heifer Expo, you must be between the age of 8 and 23 years on the first of July and have either a stud-registered heifer or a Commercial steer or heifer.
Commercial Steers/Heifers can be crossbred and do not have to be registered.
Animals can be organised for children unable to find their own if sufficient notice is given.
All animals are broken to lead prior to the show and children are responsible for their animal for the duration of the event. Children are educated in showmanship, handling and animal presentation through clipping demonstrations, ringcraft, washing and blow-drying demonstrations, personal presentation, safety and stall presentation.
The entrants are divided into age groups known as:
Junior
Sub-Intermediate
Intermediate
Seniors
Novice
This allows specialised attention to entrants to enhance their current skill level, and children don't feel out of place. Most importantly this allows children of similar age groups and skill levels to form close friendships that last for a lifetime.
Parents of children are also invited to attend with live-in parent positions available for those people willing to 'chip-in' and lend a hand. Organisers of the event need some assistance with meal preparation and it is always handy to have adults around to aid with group organisation and demonstrations.
Accommodation:
Entrants are housed on the grounds and are not permitted to leave without prior consent from a committee member. Each child is paired up and allocated a locker where they camp for the duration of the event. Junior entrants sleep in rooms under the grandstand. Showers and toilet facilities are provided but warm and waterproof clothing is required as the nights become cold.
So are you interested in Cattle or Agriculture and have some spare time in July, why not come down to the Royal Adelaide Showground at Wayville, and become a part of the South Australian Junior Heifer Expo.